Be a part of Ellensburg history and join our dynamic opening teams!
Hotel Windrow features 59 well-appointed, high-tech guest rooms. Guests and community members can dine at Basalt restaurant and craft cocktail lounge, located at the base of the towering atrium lobby. Meetings, celebrations and gatherings of all kinds will take advantage of 8,000 square feet of high-tech, very flexible gathering space, featuring the historic 4,000 square foot ballroom and breathtaking views from the rooftop deck.
Hotel Windrow and Basalt will open in Fall 2019. We are building a dynamic opening team to set our standard for service and hospitality.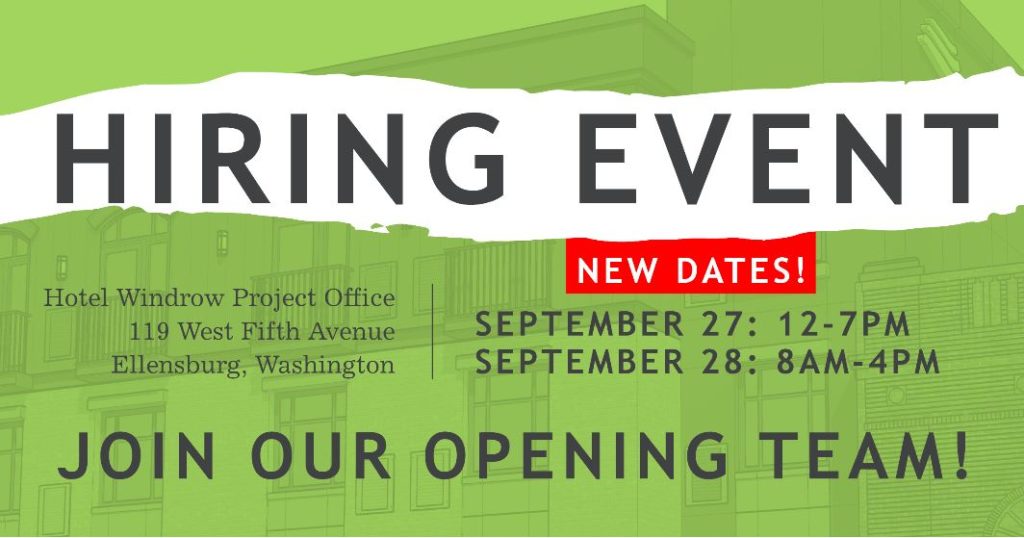 Come prepared to interview — Jobs will be offered throughout the day!
---
Team Member Benefits
Employer-paid medical coverage provided for full time team members; dependent coverage available for purchase
Team member discounts at Basalt
Ambitious team members can earn more by achieving "All-Star" status through proficiency in other areas of the hotel beyond their primary role
Opportunities for advancement at the newest, best hotel in town
Check back for more job postings.
---
Hotel Windrow Front of the House Openings
Guest Service Agents
The Guest Service Agent is the at the controls of the hub of the hotel. They are often the first impression of the hotel for our guests. If you truly embrace the concepts of hospitality, this might be a great position for you.
Bell Attendants
The bell attendant assists guests with their luggage, takes care of guest requests that arise during their stay, will occasionally drive the Windrow Shuttle to deliver guests to their destinations in the immediate area and may occasionally drop off or retrieve a guest vehicle from the Valet Lot.
Valet Parkers (Runners)
Runners do just that. They greet our guests upon their arrival, assist them with unloading of their luggage or other belongings, park their car in the valet lot, and then run the 1.5 blocks back to the hotel. Retrieving cars reverses the process.
Night Auditors
The Night Auditor is the overnight (Graveyard Shift) Guest Service Agent. In addition to greeting our guests and all other duties, this position is responsible for posting Room, Tax, valet and package charges to guests, closing out and reconciling the hotel day on the hotel's Property Management System (PMS) and preparing the Guest Service Desk for the day ahead.
---
Hotel Windrow Housekeeping Department
Room Attendants
The Room Attendant is responsible for assuring that each guest checked into the hotel, receives a perfectly prepared "like new" guest room, with all standard amenities in place, as well as all equipment in the room in working order. The Room Attendant also assures that those same rooms are freshened each day during a guest's stay. The Room Attendant may also be asked to maintain the public spaces in the areas of the assigned rooms.
Laundry Attendants
The laundry attendant must operate the commercial laundry equipment provided in the Housekeeping department. All linen and terry must be processed, folded and placed back into inventory, while assuring that damaged or stained items are removed from service.
House Attendants
The House Attendant supports the housekeeping operation through a variety of activities, including stocking and restocking housekeeping carts and closets on the floors, assisting Room Attendants as needed and generally supporting the overall efforts of the Department.
---
Maintenance Department
Maintenance Technician
Maintenance Technicians are responsible for day-to-day repairs as well as preventative maintenance throughout the building. Technicians should have previous experience in the maintenance industry, as well as knowledge of appropriate equipment.
---
Basalt Restaurant
Hosts
Hosts give diners their first impression of Basalt. Hosts will welcome guests, address guest needs, attend to the wait list, and communicate closely with the restaurant team.
Bussers/Server Assistants
Bussers are key members of our serving team providing water and beverages to our guests. Bussers work together to ensure the restaurant is welcoming, guests are comfortable, tables are set and cleared, and more.
Servers
Servers will offer full table service throughout Basalt. These team members will have a comprehensive understanding of menu items, fresh sheets, wine and more, and will ensure guests have memorable experiences during each visit.
Bartenders/Mixologists
Bartenders/Mixologists will promote the spirit of Hotel Windrow and Basalt by crafting unique cocktails and beverages, engaging with customers, taking orders, and more.
Bartender/Mixologist (Lead or Manager)
Bartender Leads have experience in inventory, drink training, and assisting management to maintain restaurant standards. Bartenders/Mixologists will promote the spirit of Hotel Windrow and Basalt by crafting unique cocktails and beverages, engaging with customers, taking orders, and more.
Catering Team Member
Catering Team Members will assist with event room set up, meal service during events, and clean up/reset. Catering Team Members create exceptional memories for every guest, and maintain presentation and cleanliness of all catering stations, table settings and more.
Catering Captain
An experienced Catering Captain will lead our catering team to create exceptional memories for every guest. The Catering Captain works closely with management, reviews and prepares to fulfill each Banquet Event Order and assists with banquet reconciliation.
Sous Chef
The Sous Chef works closely with the Executive Chef to manage the overall success of the kitchen. This position ensures team members adhere to culinary standards and regulations, helps with kitchen schedules, develops menus, plays an active role with inventory tracking and recording, and more.
Lead Line Cook
The Lead Line Cook is responsible for precisely following and executing recipes, maintaining a high level of consistency, fostering a strong team environment, ensuring that the kitchen, prep areas, equipment, storage areas meet restaurant cleaning standards, and more.
Line Cooks
Line Cooks will prepare food for service (chopping vegetables, butchering meat, making sauces), maintain a high level of consistency, monitor product freshness, and more.
Banquet Chef
The Banquet Chef leads the catering efforts for events within Hotel Windrow and Basalt. This position will prepare and deliver food requirements for parties of up to 300 people, train new employees, develop catering menus, and more.
Banquet Cooks
Banquet Cooks will prepare and deliver on food requirements for parties of up to 300 people, follow recipes and menus put in place by chef, communicate clearly with staff and guests, maintain station/kitchen cleanliness and more.
Pastry Cooks
The Pastry Cook will work closely with the Executive Chef to create a variety of baked goods, pastries and desserts for restaurant guests and special events. This position will be responsible for maintaining the station and following recipes, as well as working closely with the Chef with presentation of dishes. Baking and pastry experience is helpful but not necessary.
Scullery/Dishwashers
Scullery/Dishwasher team members will maintain the highest level of cleanliness for all flatware, tableware and glassware, pots, pans, tools, utensils and cooking equipment. This position will ensure proper storage of items, sort and remove trash/recycling, and assist with cleanliness of facilities.